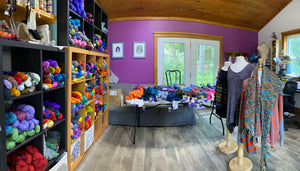 Book an in person shopping appointment for Indigodragonfly Studio.
**Please Note: The bulk of our yarn stock will be at a trade & trunk show in the US from Aug. 1 to approx. Aug 19**
COVID-19 Policies for In Person Shopping:
Appointments are available to book, Monday to Friday 10:30 am to 4:30 pm ONLY. Masks are required while inside the studio.
___
By booking a shopping appointment, you agree to adhere to Indigodragonfly's COVID protocols.
We also offer curbside pick-up and online shopping as alternatives to in person shopping.
- all visitors must wear a mask that covers mouth and nose. If you don't have a mask with you, we can provide one in exchange for a donation.
- our washroom is not open to the public.